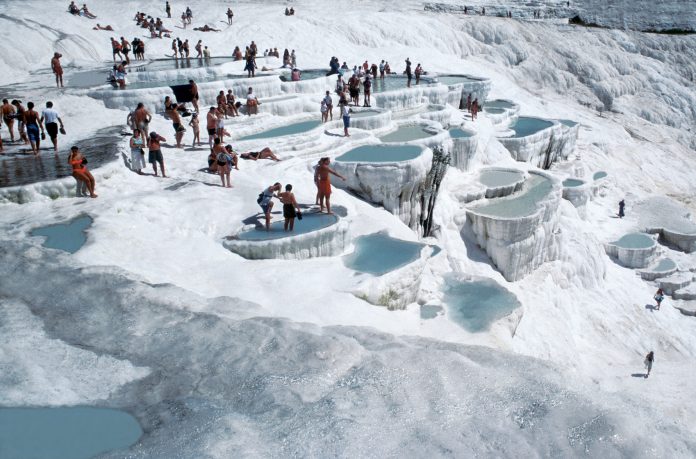 Pamukkale can be easily called one of the natural wonders in Turkey. Excursions in Pamukkale are considered to be a fabulous journey at an affordable cost where everyone wishes to find himself/herself. A lot of happy tourists who were able to visit the Cotton Castle in the season 2015 confirm this statement in their feedbacks.
The ancient name for Pamukkale is Hierapolis. Since Roman Empire only notable men could visit this city to take a bath in healing mineral springs. Now the magnificent Turkish Travertines are available for everyone. The only thing you have to do is to go on an excursion to Pamukkale. The price for the journey is about 10 euro, but the impressions and taken photos from that place are priceless.
Springs 

The main place of interest in Pamukkale is Karahayit spring. The water from this spring successfully heals skin diseases, improves heart system and gives you a fabulous relaxation. The excursion also gives you the opportunity to swim in the Cleopatra swimming pool and try the effects of the mineral springs yourself. The price for that is 13 euro in 2015; however, as tourists say it really worth trying it.
Ancient Ruins
Besides the springs in Pamukkale there are also other attractive places there. In the archaeological literature the city has the name of Holy. There was once a huge amount of religious facilities within its territory as the ancient Pamukkale had been a center of Christianity in the 4th century. The excursion also includes the stroll through the ruins of the city of the Dead, have a view at ancient theater and take a lot of photos from your visit to Turkey.
If you want to see the Pamukkale Travertines with your own eyes, we advise you to hurry up and visit Turkey! You will stay satisfied for sure and full of impressions!