History of Paraguay – A land locked nation in S central South America, bounded on the N and NW by Bolivia; on the NE and E by Brazil; and on the SE, S, and W by Argentina. Sebastian Cabot, in the service of Spain, explored the Paraguay River in 1527, hoping it would lead him to Peru. Circa 1535 the Spanish Juan de Ayolas and Domingo Martinez de Irala sailed up the Paraguay River for the same reason. The first settlement was made at Asuncion c. 1535 by Juan de Salazar and Gonzalo de Mendoza, and Irala became not only the first governor of what was later Paraguay, but also the first freely elected governor in the Americas. In 1542 Alvar Nunez Cabeza de Vaca was appointed governor of the Rio de la Plata area, which then included Paragua
As governor of Rio de la Plata, Hernand o Arias de Saavedra succeeded in having Paraguay, then called Guaira, made a separate province in 1617. He gave territorial rights to the Jesuits who established reducciones, settlements of Indians, mostly Guarani, for the purpose of using their labor as well as converting them to Christianity. The Jesuits went on to establish their own nearly independent country here until the order was dissolved in 1773. The colonial fight for freedom from Spain began in 1721, with the revolt of the comuneros, citizens organized to defend their rights. They were led by Jose de Antequera y Castro, a Peruvian; and although he was captured and beheaded in 1731, the comuneros effectively ruled for nearly 10 years. In 1776 the whole region was made part of the Spanish viceroyalty of Rio de la Plata. In 1810 another revolt, beginning in Argentina, spread to Paraguay, and the next year independence was declared. Jose Gaspar Rodriquez de Francia, who took part in the revolt, declared himself dictator in 1814 and ruled until his death in 1840. Known as El Supremo, he was a just despot, isolating Paraguay from the world and making it more self-sufficient. After his death, Carlos Antonio Lopez became much the same kind of dictator. However, his son, Francisco Solano Lopez, who ruled from 1862 to 1870, considered himself the Napoleon of South America. He pushed the country into the War of the Triple Alliance against Brazil, Argentina, and Uruguay in 1865 and led the nation to devastating defeat in 1870.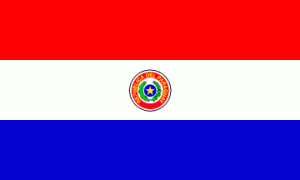 Liberal forces ultimately secured control in 1904 and ruled for 20 years, but the Great Depression of the 1930s brought economic problems and unrest. The Chaco War of 1932 to 1935 was fought over the Gran Chaco, a lowland plain in Paraguay, Bolivia, and Argentina. The boundary had long been disputed, and the discovery of oil caused war between Paraguay and Bolivia. At the end both sides were badly worn down. A treaty in 1938 gave three-fourths of the disputed area to Paraguay, while Bolivia received a corridor to the Paraguay River. Higinio Morinigo, president in 1940, established a military dictatorship but was ousted in 1948. After a series of short-lived governments, Alfredo Stroessner led a coup and became president in 1954. Although virtual dictator, he continued to hold elections and to campaign vigorously. He was reelected several times and in 1978 was sworn in for a sixth consecutive term. There have been charges of abuses of human rights by this right-wing government, but Stroessner insisted that order and prosperity outweigh abuses. Stroessner was overthrown in a coup in February 1989. The coup leader, General Andres Rodriguez, was elected president, and gradually began moving the country away from its authoritarian past. In 1993, Juan Carlos Wasmosy of the Colorado Party was elected president. In 1996, there was an attempted military coup by the army chief, Lino Oviedo. When Oviedo became the presidential cand idate of the Colorado Party in 1997, he was arrested on charges of insubordination in the 1996 coup. Oviedo was sentenced to 10 years in prison; but his running mate, Raul Cubas Grau, won the 1998 election. In 2002, Wasmosy was convicted of corruption because of his role in a bank scand al during his presidency.
Shortly after taking office Cubas freed Oviedo, and later ignored a supreme court order to return Oviedo to prison. A bitter power struggle developed between Cubas and Vice President Luis Maria Argana, resulting in Argana being killed in a street ambush in 1999. After several days of rioting, Cubas was impeached, and then resigned and fled to Brazil. Cubas returned in 2002 to face charges arising from the assassination. Oviedo fled to Argentina. The president of the senate, Luis Gonzalez Macchi, became president, heading a government of national unity. An attempted coup by supporters of Oviedo failed in 2000, and Oviedo was arrested the following month in Brazil. A special vice presidential election in August was narrowly won by the Liberal Party cand idate, Julio Cesar Franco; it was the first national election lost by the Colorado Party since it came to power in 1947. Franco benefited from the split within the Colorado Party and had the de facto support of Oviedo.
Gonzalez Macchi's coalition subsequently failed as opponents within the Colorado Party and Franco's supporters undermined the president. In 2001 Paraguay's request to extradite Oviedo from Brazil was rejected by Brazil's supreme court. In 2003 Gonzalez Macchi was impeached for corruption but survived when his opponents fell short of the two-thirds majority needed to convict him in the Paraguayan senate. In the 2003 presidential election, Oscar Nicanor Duarte Frutos, the Colorado Party cand idate, won; Franco placed second. Oviedo returned to Paraguay in 2004 and was immediately arrested and jailed. Asuncion is the capital and largest city; Encarnacion is also an important center.