Maldives island's – 19 clusters of coral island's
Maldives islands – Republic composed of 19 clusters of coral island's located in the Indian Ocean, approximately 400 mi SW of Sri Lanka.
Originally settled by people from South Asia, the island s were introduced to Islam in the 12th century. The 16th century saw the arrival of the Portuguese, and European domination during the next 300 years. In 1887 the island s became a British protectorate and military base but retained internal self-government.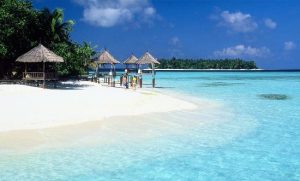 The Maldives gained independence as a sultanate in 1965, and in 1968 the ad-Din dynasty, which had ruled since the 14th century, was ended and a republic declared. Maumoon Abdul Gayoom, was elected president in 1978, and has continued to rule the country since. In 2004, the Indian Ocean tsunami caused heavy damage to the island s. Increasing protests have caused President Gayoom to declare multiparty elections by the end of 2005. The nation continues to push for recognition of the impacts of global warming—a moderate rise in sea level would obliterate the island nation. Male is the capital.