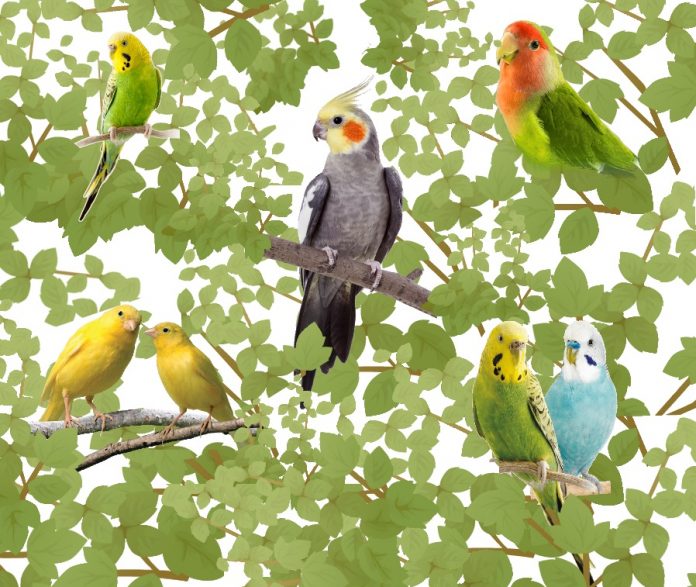 Things to Consider Before Getting a Pet Bird:
There is many things we need to know before we settle on species, some are bellow,
Size of the cages.
Life span of birds.
Food it will require.
The Noise Level of the bird.
Time and Attention the species needs.
Find right Bird that fits your personality and lifestyle.
Birds available in an amazing variety of shapes, colors and personalities, some smaller birds like Finches, canaries, budgies need lot of love and handling and some larger parrots and birds need a vast amount of on attentions and work such as Amazons, African greys, cockatoos, and macaws, Greys and Amazons are most loving cause of their talking abilities, these trainable birds are also the most challenging and most demanding as pets, your ability to commit to hard work needed to successfully live with one of these demanding birds some can live up to 60 years.
Type of Bird which one is the Best for a Beginner:
When you are thinking of what type of bird is best for a beginner better start simple and small before you can squawk "learn to crawl before you can walk".
The list below includes birds that are reasonably priced, reasonably sized, and just plain reasonable to live with, they are relatively simple to care for, and if you treat them right way they will give you love and affection for years.
Budgies (Parakeets):
The budgerigar (Melopsittacus undulatus) commonly called "Budgies, parakeets".
Need a lot of toys, Eagerness for a human's affections.
They are willing to spend every day playing with them.
They are closely related to lories and the fig parrots.
There Behavior and willingness to interact make them popular pets.
Budgies are Bright colors, small to medium-sized seed-eating birds with long tail feathers.
They are Average 18 cm (7 in) long, weigh 30–40 grams (1.1–1.4 oz), 30 cm (12 in) in wingspan.
Life-span can be up to eight years or longer, Depending on their health, diet and care.
One of the most popular pet bird species in the world are budgies, which you may know as parakeets, Budgerigars are naturally green and yellow with black, scalloped markings on the nape, back, and wings, While each parakeet breed is unique, their size, diet, and overall personalities make them great birds for first-time owners, a budgie requires a little more time than most people realize. Budgies need one-on-one time with their human companion. Training and perform everyday tasks can sit on your shoulder and they're quick to learn different tricks and games.
Canary (Serinus canaria):
Family:  Fringillidae
Genus:   Serinus canaria
Sounds: Chatterer, Whistler
Also Called domestica – Domestic or song canary
Approximately 10cm to 12 cm (3.9 inch to 4.7 inch) in length.
Wingspan of 21 cm to 23.7 cm (8.3 inch to 9.3 inch)
Weight of 8.4 grams to 24.3 grams (0.30 to 0.86 oz) average around 15 g (0.53 oz).
Mostly 3-9 inches, depending on variety; enormous variation in coloration; beak is pale pink to pinkish-gray.
Behavior: Friendly and gregarious. Not much like to handling, but will bond with owner.
The canary was named for its place of origin, the Canary Islands, Canary average lifespan is up to 10 years, Depending on their health, diet and care, there food are High quality canary seed mix, pelleted food. An assortment of fruits and vegetables also Mineral supplement, Vitamin supplement, mineral block, oyster shells, Sprouted seeds or mineral mix.  Clean water should be available at all times, proper housing for the canary is essential for keeping it happy and singing, As with most bird species, Mostly Mature male canaries sing and females produce only a single cheep vocalization.
Peach-Faced Lovebirds (Agapornis):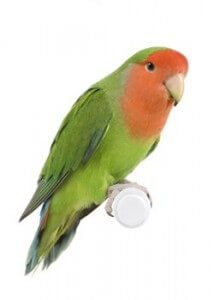 Lovebirds live in small flocks in Trees.
Approximately 13 cm to 17 cm, 5 Inch to 7 inch in length.
Approximately 40 to 60 grams (1 1⁄2 to 2 oz) in weight.
Approximately Up to 24 cm in wingspan with 9 cm for a single wing.
Love Birds are Originating from Africa and Madagascar.
Love Birds are short tail and a relatively large, sharp beak.
Eat different type of fruit, vegetables, grasses, and seeds.
Wild Type lovebirds are mostly green also variety of colors on their upper body.
The average lifespan is 10 to 15 years, Depending on their health, diet and care.
Peach-faced lovebirds are beautiful, active, and playful; these little birds are a good choice for people. it Can be your best pal for years, One of the things that make them great pets is their compact size, When hand-raised and socialized with humans, these little guys love to be handled, carried around in your shirt pocket or on your collar, However, it's important that they are handled daily, as they can become nippy if not properly socialized. Due to this, lovebirds are best suited to adults or families with older children, Lovebirds need a good amount of room to fly due to being very active birds, it is good practice for them to let them out of their cage every day in a safe and hazard-free environment.
Cockatiel (Nymphicus hollandicus):
Native to Australia.
Relatively vocal birds.
Relatively easy to breed.
Member of the cockatoo family.
Face of the male is yellow or white.
Approximately 30 to 33 cm (12 to 13 in).
Female Face is primarily grey or light grey.
Both sexes feature a round orange area on both ears referred as "cheddar cheeks".
The average lifespan is 10 to 15 years, Depending on their health, diet and care.
Cockatiels can be sing specific melodies and speak many words and phrases.
Wild Type is Normal grey plumage is primarily grey with prominent white flashes on the outer edges of each wing.
The beautiful and captivating cockatiel is another great choice for anyone looking for a friendly and affectionate pet bird, Many cockatiels have an affinity for song, and will love listening to their human sing or whistle, Some are even capable of learning to whistle songs back to you, these birds make excellent pets when hand-fed as babies and raised in loving environments, However, they do require plenty of attention and toys, and likely won't feel content sitting in a cage all the time.
Important Decisions before Getting a Pet Bird
Young birds have more chance of successful mixing with you or your family.
The species should be the same, so keep canaries with canaries, Budgies with Budgies, and Cockatiel with Cockatiel.
If you purchase or adopt a pair, they may bond to each other, and not to with you and If you want to create a special connection with your new pet or wanted to train him to talk, you may want to consider one not two.
Some birds need to keep their brains busy much like children, so better you give parrots toys to keep them entertained, these positive activities can go a long way. Many kinds of toys available which one you can provided them like foot toys, hanging toys, and vertical toys etc hung on the inside wall of a cage that acts as a play board and puzzles.