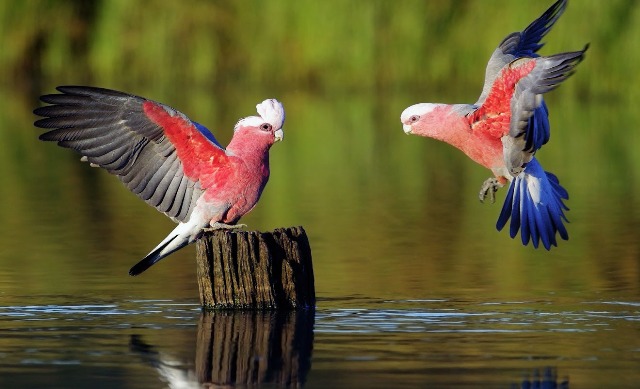 The top ten best pet birds list are Cockatiels, African greys, Budgies, Conures, macaws, Cockatoos, Amazon  parrots, Poicephalus parrots, Pionus parrots and Quaker parrots.
Find out more about each species here.
10 – Cockatiels:
Names:
Cockatiels, other Name Quarrion, Weiro
Family Name:
Cockatoo
Approximately Age:
16 to 25 Year
Colors or Mutations of Cockatiels:
silvestre, harlequin, lutino, cinnamon, opaline (pearl), cara black, silver, fawn, albino, pastel, silver and recessive silver dominant.
Living Places:
Australian wetlands, scrublands, and bush lands.
9 – African Grey Parrots:
Name:
African grey parrot, grey parrot or Congo African grey parrot .
Weight:
400 grams.
Length:
33 cm.
Average wingspan:
46–52 cm.
Colour:
Grey, tail and under-tail coverts are red or maroon.
8 – Budgerigars:
Name:
Budgerigar also known as common pet parakeet or shell parakeet and nicknamed the budgie.
Weight:
30–40 grams.
Length:
18 cm or 7 inch long.
Colors or Mutations:
White-based (blue, grey and white), Yellow-based (green, grey-green and yellow).other at least 32 primary mutations .
7 – Cockatoos:
Name:
cockatoo.
Bird Family Name:
Cacatuidae.
Weight and Lenth:
300 to 200 Grams – 12 to 24 inch, 80 to 100 grams – 32 cm (13 inch), largest white-coloured cockatoo species at about 52 cm (20 in) long 775 to 935 grams.
Approximately Age:
Larger cockatoos can live 30–70 years.
Colors and Mutations:
There are about 44 different birds in the cockatoo family Cacatuidae, some are below,
Black cockatoos, black palm cockatoo, white, pink, grey, Moluccan cockatoos, Red-vented cockatoo, Blue-eyed cockatoo, Sulphur-crested cockatoo, Gang-gang cockatoos, Major Mitchell's cockatoo, Carnaby's black cockatoos.
6 – Conures:
Name:
Green cheeked parakeet
Weight:
60 to 80 Grams
Length:
26 cm – 10 inch long
Living Place:
Forests of South America
Food:
potatoes, carrots, corn, bread, pasta, and plain popcorn.
Colors and Mutations:
Cinnamon (lime green), Pineapple is cinnamon and yellow-sided combination, Turquoise have a body with some blue-green and green feathers.
5 – Macaws:
Names:
Blue and Gold Macaw, Blue and Yellow Macaw.
Weight:
900 to 1500 grams (1.9 to 3.3 lbs)
Length:
76 to 86 cm (30 to 34 in) long
Food:
Nuts, Seeds and Fruits.
4 – Poicephalus:
Names:
Senegal parrot, Meyer's parrot, Red-bellied parrot and the brown-headed parrot .
Family Name:
Psittacidae
Food:
seeds, Fruits, Nuts, and Leafy matter.
Living Place:
Africa.
3 – Amazon Parrots:
Names:
Yellow Headed Amazon, Yellow Naped Amazon, Orange-winged Amazon, Blue-fronted Amazon.
Living Places:
South America to Mexico and the Caribbean.
Food:
Seeds, Nuts, and Fruits, supplemented by leafy matter.
Age:
Nearly 50 years.
2 – Quaker Parrots:
Names:
Monk parakeet, Quaker Parrot.
Weight:
100 Grams (3.5 oz)
Length:
29 cm (11 inch) long on average, with a 48 cm (19 inch) wingspan.
Mostly Living Places:
Argentina, Brazil and Uruguay.
Age:
15–20 years or as much as 25–30 years.
1 – Pionus Parrots:
Names:
Pionus Parrots,  Blue-headed Pionus.
Length:
27 cm long (11 in)
Weight:
245 Gram
Food:
Fruit, Seeds and sometimes grain.
Living Places:
South America, southern Central America, Costa Rica, Venezuela, Trinidad south to Bolivia and Brazil.