Modern Smartphone Name Is DRAS
Truly Foldable Smartphone
DRAS – Stands for Digital Resistive Area Sensing.
Flexible Screen without a Solid Frame.
Space size 2″ x 1″ x 1″.
Modern Capacitive Touchscreen.
Digital Resistive Area Sensing Technology.
Built-in screen protection from scratches and cracking.
Not affected by humidity or temperature swings.
Senses finger force.
Enable use while wearing gloves.
Bends three different points.
Fully collapsible, Folds from 60mm x 27mm x 33mm or 60 mm x 54mm x 16mm to a fully functional 110 mm x 60 mm x 8mm.
DRAS phone by R&D Core Limited.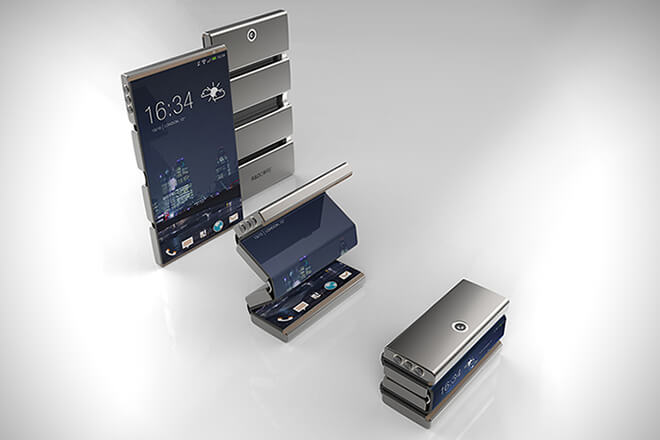 The DRAS Feature Smart phones – This is probably the most unusual smartphone in the whole world the thing is you can pile it up like a bunch of Domino tiles moreover the phone has a modern touchscreen which can be bent a hundred and eighty degrees in three different points can you imagine this innovative design makes the phone more compact but seriously what can be better than folding your phone one or even two times and even when folded the screen is fully functional and shows your notifications and any important information using all kinds of widgets at first sight it might look like a pretty weird phone but we're sure that people are going to love it.