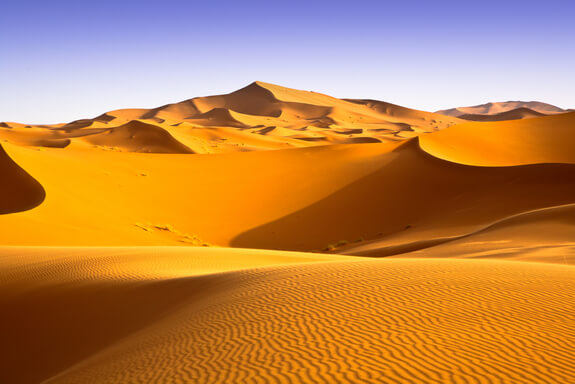 History of Sahara – Desert, largest in the world, extending more than 3,000 mi from the Red Sea on the E, westward to the Atlantic Ocean. On the N are the Atlas Mts, the MediterraneanSea, and some steppeland . The Sahara extends approximately 1,200 mi S to the Sahel, asemiarid region running from Senegal on the W to Ethiopia on the E.The climate of the Sahara is extremely harsh, with very little rainfall, very high temperatures, and little vegetation except in scattered oases. The permanent population has always been small, consisting inancient times mostly of black Sudanese. After thecamel was introduced, probably in the first centurya.d., Berbers and Arabs took over. They improvedoases by drilling for water and by planting date palmtrees.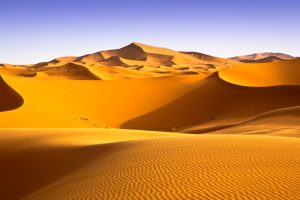 The Sahara became a sea of sand on which caravans traveled like ships crossing an ocean. The medieval peoples and kingdoms of West Africa, such as the Fulani, the Hausa, Mali, Bornu, and Songhai,participated in this trade, which carried slaves, gold,salt, ivory, and other goods in all directions. The north-south route between the mysterious and fabled city of Timbuktu, in present Mali, and Algeria on the Mediterranean was particularly prosperous until the slave trade was suppressed in the 19th century.Today specially equipped motor vehicles have mostly replaced the camel as the ship of the desert.Beginning in the early 19th century the Sahara attracted many European explorers anxious to prove their mettle by crossing it and curious to find some of the ancient cities in it and around its edges.
The earliest adventurers were Friedrich Hornemann in 1805 and Mungo Park in 1806. One of the first to make the full crossing was Rene Caillie of France, who was also the first European to visit Timbuktu. Others were Heinrich Barth, a German in British service;Gustav Nachtigal, a German who visited the central Sahara in 1869 and reached Khartoum; Hugh Clapperton of Great Britain, one of the first Europeans to see Lake Chad, mostly in present Chad; and Dixon Denham of Great Britain who reached the Bornuregion in 1823. From west to east the Sahara covers all or most of the modern nations of Senegal, Mauritania,Algeria, Mali, Niger, Tunisia, Libya, Chad, Egypt and Sudan.