History of Royal Road in Spain – If the death road in Bolivia holds a rank of the most dangerous road in the world, the Royal track of El Caminito Del Rey in Spain argues for the right to be called as the most dangerous track. For this purpose it has all bases – the track literally hangs over the gorge of El Chorro and walk on it is not less dangerous, than lifting on any mountain top.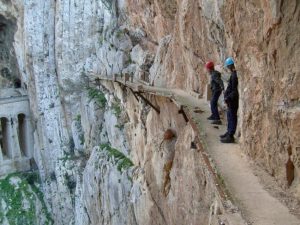 Track have started to build in 1901 for the workers participating in construction of a dam Conde del Guadalhorce. The construction it was absolutely simple – iron beams and the rails hammered into the rock, and from above – a covering from concrete. Width – no more than a meter, length – about three kilometers, height – more than hundred meters over the earth. The track has received the loud name after in 1921 the king of Spain Alfonso XIII has walked on it at dam opening ceremony. Since then kings here any more did not see, but wishing to pass "a track of the king's" – plenty.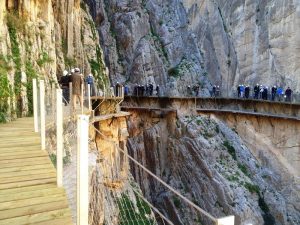 Meanwhile, the Royal track has fallen into decay over time, many blocks partially or have completely fallen off, and after several fatal cases in 1999 and 2000 the track has been officially closed for tourists. But informally it still continue to visit. Those who is ready to risk for the sake of adrenaline, come to the Royal track all the year round.
In plans of the authorities of Andalusia – to reconstruct object and to turn it into high-grade tourist sight.