Sometimes car parking is a painful experience in this age when almost everyone has its own car that's why a few apps and websites try to make car parking process easy and secure. One of the critical reasons clients book in advance online is to enjoy a hassle-free parking experience. Pre-booking your parking for your car or vehicle is comfortable with websites like way.com, and the good thing is that you don't need to bother about parking when you are out of your city. Way.com is providing you many services like parking, dining, and movie. They are providing pre-booked parking at different airports around the globe including Dallas (DFW), Dayton (DAY), Denver (DEN), Detroit (DTW), Dulles (IAD), El Paso (ELP), many more. By pre-booking, you will not only save your time but money as well.

Booking Car Parking is Essential for the following reasons.

There are a few types of research that figure out the amount of time spends (sometimes 10 to 20 min) by the drivers in searching for an available parking space. Finding a place for the car becomes more important when you are out of your town or city.  You can save your valuable time by booking your parking first before going to the place.
By booking car parking place, you are reducing traffic. Because sometimes when you are searching for the right place for making you start circling just one spot and this thing waste not only your time but also increase traffic.

Way.com Services

Way.com is the leading website offering exclusive online deals on airport parking, movie, dining, and event tickets. The only mission of the Way.com is to provide the offers that your city have. You can find all your orders saved in your account at Way.com. You can easily access your Way.com account by clicking on the "Log In" option that is in the top right-hand corner of the website. After logging in you will further find more options. If you are not satisfied with your placed order or you have placed wrong order don't worry you can cancel by logging in your account. After logging in on the dashboard, you will see all your current orders. Just click "View" option for the order you want to cancel after this you will see a screen with order details then follow the instruction to cancel the order. Way.com is an online concierge website that offers discounted products and services that are available in your region. They are found in more than 9,000 towns across the U.S. Way.com makes it simple to locate an online marketplace where you can find services like movie tickets, concert tickets, dining deals, and more. You can find the best option by entering your city name in the website's search box and the result, you will see all the offers available in your area. In the airport list of Way.com, you will find a great number of airports some are here: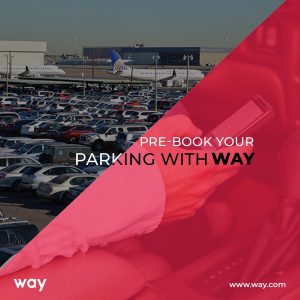 Albuquerque (ABQ)
Atlantic City (ACY)
Billings (BIL) New!
Bozeman (BZN) New!
Chicago Midway (MDW)
Fort Lauderdale (FLL)
Fort Myers (RSW)
Grand Junction (GJT) New!
Jacksonville (JAX)
Kansas City (MCI)
Fort Lauderdale (FLL)
Fort Myers (RSW)
Grand Junction (GJT)
White Plains (HPN)
Save with Way.com Coupons & Promo Codes

At Way.com all your information and data is secured by 128-bit VeriSign Secure Socket Layer Encryption. They don't sell your private information to any third parties. Customers can search the Way.com to get location-based discounts on services and destinations in their city, such as parking and tickets.  Don't forget to use Way.com promo codes and Way.com coupons available at the page of perkycoupons.com. At Way dot com you can get exclusive deals for your desired restaurants and Way.com promotions for obtaining best parking in your city.
You are just one promo code away from incredible savings. It's so smart for you to browse the best and latest offers with Way.com coupon codes. Click on the link for Way.com discount code which interests you. Be sure to check out these top Way.com voucher codes and save the most by taking full advantage of Way.com discount codes. Some Way.com promotional codes are only valid for a limited time, so grab them before they're gone.