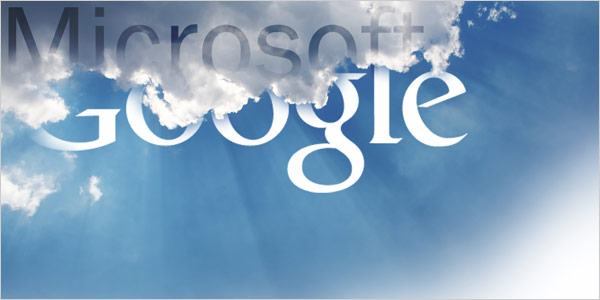 What are cloud services?
Microsoft VS Google cloud services – The services given by the service provider to the customers or users through cloud computing technology are said cloud services. Service Provider's server gives both the hardware and software necessary and thus easy in management for both user and the cloud service provider. No need to assign big IT staff for managing cloud services.
So cloud service is like giving both hard disk and operating system to you at very low/negigible cost which are inexpensive, easy and convenient to use.
Reasons for extensive use of cloud services are:
Their accessibility: The files that can be accessed are photos, documents, videos with abundant space/ storage capacity.
You can have remote access to your files. You can access them from anywhere.
You can connect your devices- laptops, iphone, smart phones, ipad, tabs etc.
Abundant features: you can edit images, videos, etc online and robust
The services are very cheaply available.
Examples of the cloud services are: data storage, email services, database management, hosting services, software as a service: editing tools etc.
Microsoft cloud service :
It is widespread among people that Microsoft is new in cloud computing and cloud services. But these rumors are widespread among-st those who do not understand the cloud, cloud system, cloud services, cloud computing. Long before the term cloud was invented (off course "cloud" in the field of IT), Microsoft has given you the cloud services which you don't recognize. It is much easy to understand in the way that email service is also a cloud service which Google, yahoo and many more have already being provided since a long time and even after cloud computing term arrived you searched what is cloud computing, Unaware of the fact that you were already using Microsoft cloud  daily. So by now you must have got an idea what have I want to say about Microsoft cloud. It can be said that Microsoft Azure, Microsoft BPOS and Microsoft SPLA together makes Microsoft cloud.
Some of the Microsoft cloud services that has been providing over years are:
Windows live Hotmail – one of the oldest and largest email services with exceptional ease of access.
msn – used for instant messaging. Have 550+ Million users.
Windows update – has nearly 110 Million users, provides updates for your windows
Bing- web search engine: formerly msn search, windows live search, live search
Microsoft office live meeting: web hosted online conference so that you can have discussions and conferences without actually meeting anyone from distance.
Microsoft office live – used for sharing documents and website deigning. This Microsoft cloud service provides website designing tools.
Microsoft azure – create cloud applications and services on this environment
Microsoft SQL azure – very convenient database designing Microsoft cloud service that needs not to be installed on your computer – neither a setup nor patch.
Microsoft Business Productivity Online Suite (BPOS) – puts all the online Microsoft cloud services together like Microsoft SharePoint Online, Microsoft Office Live Meeting, Microsoft Exchange Online, Microsoft Office Web Apps.
Office live work-space – you can use Microsoft word, excel power point online. You can even edit our documents online. This is very commonly used Microsoft cloud service which is used mostly by those who have smart phones, androids, tabs etc. They need not install Microsoft office for this and mostly can't do so.
Microsoft Skydrive – Microsoft cloud service that helps you to store photos and docs online. Access them from any PC, Mac or phone. Create and work together on Word, Excel or PowerPoint documents.
Google cloud services : 
The information made available to you in such convenience and instantly is the power of google cloud. Google cloud is alternate way to provide you the accessibility to the information and applications. Many thousands and lacks of servers across the world power a google cloud. Google cloud services includes google cloud print, google cloud connect, google cloud storage, google docs, google maps etc.
Some of the google cloud services provided over the years are :
Google cloud storage – an infrastructure as a service gives you the privilege for storing and accessing your files and documents. Extremely secure and has advanced sharing features: Similar to Amazon s3 but with much more convenience and features. Resumable upload is a competitive feature for others. You can cancel the upload and resume it from the position you left thus saves bandwidth and data loss.
Google cloud print – it is also a google cloud service which will help make any application run on any device so as to print through any printer using google cloud. It further integrates into gmail and google docs so that you can even print your emails and documents stored in google docs and in google cloud storage.
Google cloud connect – it is a freely available cloud computing plugin for Microsoft office VERSION 2003/2007/2010 which will automatically synchronize and save your documents from Microsoft office word, excel, power point to google docs in the format you need(either Microsoft office format or google docs format).  It can also allow multiple users to access the same document at same time online.  However the accessibility is subject to change and the document can be made either private i.e. can be accessed by one user, or shared by particular people or made public to everyone.
Google docs – it is a google cloud service that uses google cloud storage so that you can edit and save your documents online in alliance with others. It gives free storage up to 10 GB. The alternative of google docs launched in April 24, 2012 is google drive.