IF YOU REALLY LIKE WATER – YOU MUST SEE IT in SIAM PARK
History of Siam Park – Siam Park on Tenerife – one of the most entertainment water parks of Europe. The aqua-park created in Thai style gives fine opportunity for rest and entertainments to visitors of all age.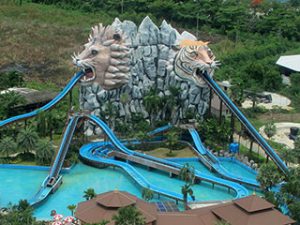 Opened in 2008 (at opening there was even a Thai princess), Siam Park was stretched on the area of 185 000 m ВІ, and all its attractions are issued in exotic style of the mysterious ancient kingdom of Siam.
Water entertainments in park – for all tastes. Want an extreme – welcome to "The Giant's" water-slide from it really in the stunning speed. There is not enough? Then you should go at once on "Tower of Power's", dizzy descent in height in 28 meters.
To sunbathe and drive on an artificial wave it is possible on a sandy beach, and after to visit "Lost City's", with its mystical riddles and secrets. The attraction of "Jungle Snake" coiling by a snake and a funnel "Dragon" twisting on bends, and also laser show (The Volcano) – if you have arrived to have a rest to Tenerife, do not forget to visit Siam Park.